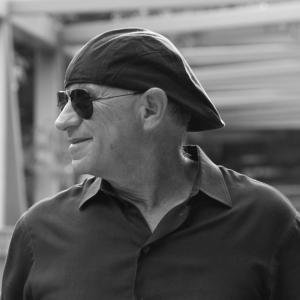 Jonathan Palter
Artist member since 2020
Pro
Toronto, Ontario
Born in Toronto, Jonathan Milne Palter began his art career as a sculptor. Using traditional tools such as hammers, chisels, and files, he creates his strong, imaginative sculptures from unrelenting blocks of stone.
In the 1980s, along with sculpture, Palter started to explore hard edge acrylic painting. His paintings were inspired by how shape, color and mathematics could precipitate different moods such as calmness, excitement and curiosity.
In the 2000s, Palter began painting with oils. Utilizing his sculpting skills and with palette knives only, he carves out thick layers of multi-coloured oil paint, creating abstract art which elicits a range of emotions that invite the imagination to explore. Not confined by the norms of traditional training, his art is marked by innovation and experimentation and is driven by the power of personal creativity. Palter believes that creative art moves us past the obvious and awakens emotions that combine memories, present impressions, and the promise of future events.
His love of travel has taken him around the world, from Greenland and the Arctic to South East Asia, Africa, South America, Australia, and New Zealand. These world experiences, as well as the beauty he sees every day in the simple things around him opens the doors to his imagination and inspires his art. "Empty canvases metamorphosis spontaneously into emotional and passionate paintings. Abstract painting is a channel to explore ones imagination and have a better awareness of not only the physical world, but also have an appreciation of what we all can create from within."
To see more of Palter's work, visit his website: www.jonathanpalter.com or him follow on instagram: jonathanpalter_art
---
Best season of the year in Toronto
Spring, it heralds the rejuvenation of colour and shape.
Favourite musical artist / band right now
Bob Dylan, the personification of creativity in lyrics and poetry.
What do you listen to when you work?
Instrumental jazz
Who do you consider a genius?
Anyone who can see past the obvious.
What kind of artwork do you have in your home?
Eclectic in style from paintings to sculpture.
Why is art important to you?
Art broadens your mind and opens infinite paths of exploration and enjoyment.
Select Past Exhibitions
-1985
1978
1985
1984
1982
1981
1981
1980
1980
1980
1980
1979
1978
1978
1979
1978
2001
2020
What do you mean, "try"?
Try-before-you-buy with a 3 month rental. 100% of your rental payments go towards the purchase (interest free). Message the artist directly, and start the conversation.
---
Art made (truly) affordable
We make it easy for you to try art with smart payment plans and try-before-you-buy models.
See How It Works
---
You're covered.
Artwork protection is included on all art rentals up to $10K. Our Customer Care team is always here to help.
Contact Us
---
Unlock Trade Access
For industries including interior design, film/TV production, & real estate staging: rent original pieces that fit with your project vision, budget and timeline.
Apply for Trade Access
---
1% from every transaction goes towards a Canadian arts nonprofit.